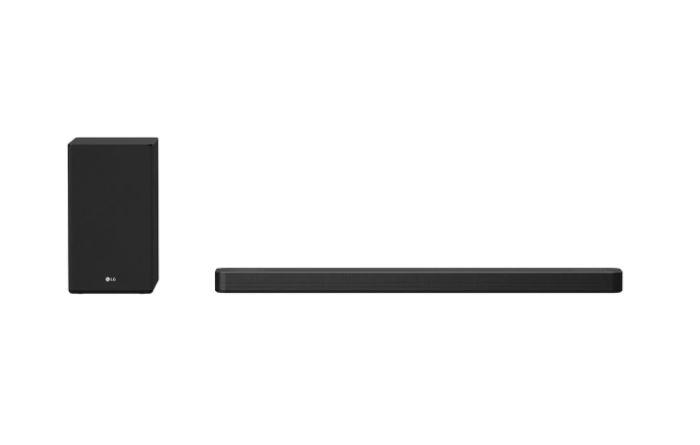 LG SN8YG 3.1.2 ch 440W Dolby Atmos® Sound Bar with Meridian
LG SN8YG --- $399 (Included Tax)
Condition: Factory Refurbished
Overview
Truly breathtaking audio experience.
The best sound for your cinematic experience.
MERIDIAN technology for exceptional sound. LG Sound Bar SN8YG now comes with Meridian's advanced digital signal processing technology. Experience the quality of ear-level sound and a wide sound stage.
Prestigious British Audio, Meridian
Since 1977, Meridian has delivered innovative and elegant high-performance audio solutions. They have pushed boundaries, disrupted norms, and delivered products that have redefined how people enjoy their music and movies, wherever they are.
Meridian's Leading Technologies
Meridian's rigorous and research-led philosophy has maintained their position on the limits of what's possible in sound. As a Pioneer of High Resolution Audio and a Master of Digital Signal Processing (DSP), Meridian has played an integral role in the development and adoption of pioneering technologies.
Hear the difference with immersive 3D sound
The LG Sound Bar SN8YG meets Dolby Vision, Dolby Atmos and DTS:X to transform your home into a theater, for the most immersive viewing of all your favorite movies.
Fill the room with the ultimate. cinematic surround sound
The LG Sound Bar SN8YG supports wireless connectivity for 5.1.2 ch with rear speaker kit* output so you can always watch TV with the most immersive sound.
Take your sound higher
High-Resolution Audio sounds closer to the real thing. Higher sampling rates and bit depth provide sound quality that surpasses CDs. Enjoy stunning 24-bit/192kHz audio resolution — as close to original sound as you can get.
Play music and more with a simple voice command
LG Sound Bar SN8YG with the Google Assistant. You can play music, find answers on Google Search, manage everyday tasks, and easily control smart devices around your home - just by using your voice.
Your TV and Sound Bar become your control center
Your Sound Bar can now act as your household manager. Conveniently control connected LG ThinQ® home appliances straight from your living room.
Sound suited to your space
Determine the best soundbar configuration for your space. Install knowing it also corrects fine sound distortion from objects in your room in only 15 seconds.
Adaptive audio for everything you watch
AI Sound Pro automatically analyzes content to instantly optimize audio settings for what's playing. Catch every detail with crystal clear dialogue or more punchy powerful action, depending on the genre.
Fully enjoy entertainment the best way possible
HDMI eARC (Enhanced Audio Return Channel) allows lossless transmission of uncompressed 5.1 ch and 7.1 ch audio, and even HBR(High Bit Rate) audio such as Dolby Atmos® and DTS: X® from compatible TVs.
Connect more conveniently
Add Wi-Fi and Bluetooth® connectivity to your audio setup, or conveniently connect and play using optical or HDMI cables.
More Information
Channels                                        3.1.2ch           
Total Power                                    440W
TV Remote Compatibility                  Yes
Smartphone Remote App (iOS/Android)       Yes/Yes
Easy Setup with BLE                        Yes
Audio Volume Leveler (App)  Yes
HDMI Audio Return Channel (ARC)   Yes
HDMI Audio Return Channel (e-ARC)           Yes
Dynamic Range Control (App)           Yes
HDMI SIMPLINK                             Yes
NSU (Firmware Over-the-air) Yes
Display Type                                   LCD (5 char.)
ASC (Adaptive Sound Control)          Yes
Standard                              Yes (w/Meridian)
Music                                  Yes
Bass Blast                            Yes
Bass Blast +                         Yes
Movie (Dolby Surround)        Yes
DTS:X                                  Yes
Dolby Atmos®                     Yes
High Resolution Audio          24bit/96kHz
LPCM                                  Yes
Dolby Atmos®                     Yes
Dolby TrueHD            Yes
Dolby Digital Plus                 Yes
Dolby Digital                        Yes
DTS Digital Surround  Yes
DTS-HD Master Audio          Yes
DTS-HD High Resolution       Yes
DTS:X                                  Yes
AAC / AAC+                        Yes/Yes
FLAC - C4A / USB                Yes/Yes
OGG - C4A / USB                 Yes/Yes
WAV C4A / USB                   Yes/Yes
MP3 C4A / USB                   Yes/Yes
AAC - C4A / USB                 Yes/Yes
FLAC – USB                         Yes
OGG – USB                          Yes
WAV USB                            Yes
MP3 USB                             Yes
Front                                   40W x 2
Center                                 40W
Top                                     50W x 2
Subwoofer                           220W (Wireless)
TV Matching                        49" and above
Sound Bar (WxHxD)          1060 x 57 x 119 mm (41.73" x 2.24" x 4.69")
Subwoofer (WxHxD)         221 x 390 x 312.8 mm (8.70" x 15.35" x 12.31")
Soundbar Net Weight 4.4 kg/9.70 lbs
Subwoofer Net Weight          7.8 kg/17.20 lbs
Shipping Size (WxHxD)      1168 x 284 x 456 mm (45.98" x 11.18" x 17.95")
Shipping Weight                   14.6 kg/32.19 lbs
It comes with 90 days warranty