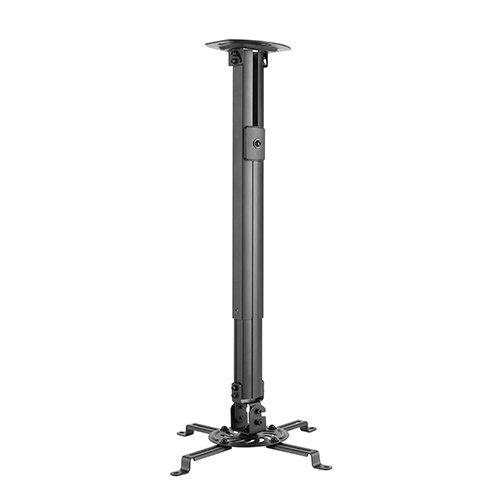 Brateck PRB-18M Steel universal Projector Ceiling Mount, 21.5" to 35.4" Profile, up to 13.5kg/29.7lbs
Brateck PRB-18M -- $55 
Condition: New
Overview
The PRB-18M is a universal ceiling mount for projectors up to 13.5kg/29.7bs. Tilting ceiling plate for flat and sloping ceiling application. It offers multidirectional positioning with four adjustable support arms that can fit a wide range of mounting holes. The quick release connector allows the projector to be installed quickly and then easily released for maintenance, without re-alignment. The retractable aluminum column provides height adjustment for your different choices. This projector mount is perfect for use in classrooms, boardrooms, hotels, bars and restaurants or anywhere a projector needs to be mounted.
Specifications
Retractable column for height adjustment
Cable Management
Tilt: +15°~-15° • Swivel: +15°~-15° • Rotation: 360°
Projector to Ceiling: 545-900mm/21.5-35.4"
Mounting Range: 54-320mm/2.1-12.6"
Dimensions: 334 x 334 x 900mm /13.1" x 13.1" x 35.4"
Load Capacity: 13.5kg/29.7lbs
Steel & aluminum
It comes with 30 days warranty.